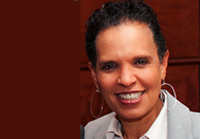 Renee' Logans to be Honored at 6th Annual Top 25 Women of Houston Awards
August 23, 2011.  Comerica Bank and The Steed Society, Inc. are thrilled to announce the Female Success Factor's 2011 Top 25 Women of Houston awards. Hard work, discipline and diligence are just a few of the criteria for making the list. This year's awardees have broken barriers in their respective fields and left an indelible mark on the face of Houston.
This impressive group of honorees consists of civic and cultural icons, entrepreneurs and corporate executives. Friends, family and colleagues will laud the accomplishments of these outstanding leaders during an awards dinner at The Houstonian, located at 111 North Post Oak Lane, on Friday, October 7, 2011 at 7:00 p.m.
The Steed Society, Inc's mission is to empower women and youth.  This is done through a variety of programs. The Female Success Factor Business Seminar Series, Seeding Minds Children's Literacy Program, The Junior Youth Initiative Mentoring Program (at Jack Yates High School) and The Top 25 Women of Houston Awards. This year's presenting sponsor is Comerica Bank.
For more information on sponsorship, media access or tickets ($200), please contact Kimberly Floyd at (713) 645-1350 or e-mail KIM@STEEDMEDIA.COM.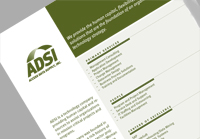 The Rebranding of Access Data Supply, Inc.
July 2011. We realize that as technology evolves we must do the same in re-energizing our brand. Over the last 20 years we have amassed a client-base in both the public and private sectors. However, this is a great opportunity to broaden our footprint and showcase our brand to new businesses. We are excited about the changes and possibilities of continued growth.  Our philosophy entails "leading by example'. Being proactive to clients' needs is essential to our success and sustainability. "As the door of the last 20 years closes to a completion we open the door to the next phase with great anticipation", said Renee' Logans, President of ADSI.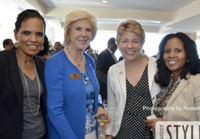 Reception for Carlecia Wright
June 2011. On hand were several small business owners including our own Renee' Logans who is also Co-Chair of the Mayor's M/WBE Transition Team Committee. Others in attendance include: William Paul-Thomas, Mayor Annise Parker's Office, Truman C. Edminster, Edminster, Hinshaw, Russ and Associates, and Co-Chair of the Mayor's M/WBE Transition Team Committee, James G. Rodriguez – Council Member District I and Chair of Small Business and, Carlecia D. Wright – Director of the Mayor's Office of Business Opportunities (OBO) and Francis Page, Jr. – President of Minority Print Media and Publisher Houston Style Magazine.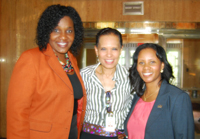 Mayor Parker Picks Director of Mayors Office of Business Opportunity
April 20, 2011. Mayor Annise Parker named Carlecia Wright as her choice to lead the newly named (formerly Affirmative Action) Office of Business Opportunity (OBO).
"Ms. Wright is an enthusiastic and proactive leader with the energy and experience needed to build opportunities for minority and women-owned small business enterprises (MWBE) in Houston," said Mayor Parker.  "For too long, the city's efforts in this area have been driven by bureaucracy.  As we have been doing with many other City departments, I want to achieve a paradigm shift – a new energy and respect for this program.  I want a department that understands the difficulties these businesses face and is willing to help them."
Wright was selected after a nationwide search.  She comes to Houston from New York where she has been serving the dual positions of Executive Director of Certification and Recruitment and Executive Director of Policy, Planning and Operations for the City's Women-Owned Business Enterprise Program. Renee' Logans is Co-Chairman of the transition team responsible for bringing Ms. Wright to Houston.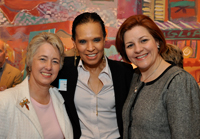 Fundraising Luncheon for Christine C. Quinn
On Saturday, April 16, 2011, a fundraising luncheon was held for Christine Quinn, Speaker of the New York City Council and the first woman elected to the position. The event was chaired by Neil Thomas, David Arpin, and Cindy Clifford. Special guest was our very own Houston mayor Annise Parker. Hosts of the event included Linda Addison, Angela Blanchard, Bob Boucher, Sally Bradford, David Bray, Rick Castaneda, Rick Cloutier, Truman Edminster, Kathleen Ellison, Argentina James, Wayne Klotz, Renee' Logans, Francis Page, Jr., Greg Rutherford, and Giti Zarinkelk. Photo is courtesy of Houston Style Magazine.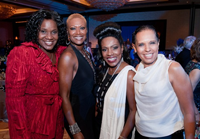 A Spectacular Evening of Energy, Honor, & Celebration at the Ensemble
On Saturday, August 14, 2010 the Ensemble Theatre celebrated "A Spectacular Evening of Energy, Honor, & Celebration". The event celebrated 34 years of service through the performing arts by honoring individuals in theatre and in the community who have committed time and resources to enhance theatre and the fine arts. Honored guests were Margaret Avery, Sheryl Lee Ralph, TC Carson, and Tre Garrett, alumni of The Ensemble Theatre. Our own Renee' Logans, a long-time board member of the Ensemble Theatre, Gala committee member, and supporter of the arts, attended the event. Photo courtesy of Papercity Magazine.
The Ensemble Theatre was founded in 1976 by the late George Hawkins to preserve African American artistic expression and enlighten, entertain and enrich a diverse community. Thirty-four years later, the theatre has evolved from a touring company operating from the trunk of Mr. Hawkins' car to being one of Houston's finest historical cultural institutions. The Ensemble is one of the only professional theatres in the region dedicated to the production of works portraying the African American experience, the oldest and largest professional African American theatre in the Southwest, and holds the distinction of being one of the nation's largest African American theatres owning and operating its facility and producing in-house. For more information about the Ensemble Theatre visit http://www.ensemblehouston.com/.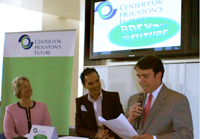 Center for Houston's Future Reunites Graduates from Ten Years of Leadership Forums
June 3, 2010. Ten years after its first leadership forum, the Center for Houston's Future invited 550 graduates to come Back to the Future for a Business/Civic Leadership Forum Graduate Reunion.
The Graduate Reunion was part of the Center's year-long 10th Anniversary celebration, and was chaired by Renee' Logans and Brandon Clarke. The event was hosted by Chevron, and featured comments by the Center's newest Advisory Council member, Mayor Annise Parker.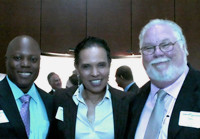 "The biggest realization from the Forum is that it's not about me and my personal skills as a leader, but about using my strengths on behalf of the community and the region. And the same is true for all of the 550 Forum Graduates of the Center," said Reunion Chair Renee' Logans.
Twice a year, the Center's Business/Civic Leadership Forums galvanize and engage leaders from our eight-county region to address issues that impact the future. Each Forum, professionally facilitated, convenes a small class of leaders offsite for several days to consider the complex forces driving the future of our region. The class members are selected for their proven records of leadership, personal capabilities and histories of community action, and are chosen to reflect the diversity of the Greater Houston region.
The hallmark of these Forums is the sense of personal accountability for the future that is fostered in each of the participants. They are challenged to freshly examine the current reality of Houston, to delve into issues where they feel the most passion to make a difference, and ultimately to create group action plans that address those issues. The "learning journeys" taken by Forum participants have resulted in offshoot organizations and projects that have direct, concrete benefit for our region. Examples include Wifi for Houston, which established 630 sq. miles of wireless service for more than 350,000 people in 25 under-served neighborhoods, and the Citizenship Coalition of Houston, which has helped more than 4,000 legal permanent residents wade through the paperwork necessary to become U.S. citizens, becoming the largest volunteer program of its kind in the United States.
For more information on the Center for Houston's Future Business/Civic Leadership Forums, visit www.futurehouston.org.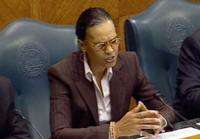 Renee Logans Co-Chairing Mayor's Transition Team
On December 17, 2009 Mayor-elect Annise Parker announced the selection of her transition team. "This process will set the tone for my administration," said Parker.  "I am proud that such a diverse representation of Houston business, government and community interests has stepped forward to lead the effort.  They have extensive knowledge of what I want to accomplish and the transparency I desire as mayor.  I want us all to work together to get through this economic downturn and emerge a stronger and better Houston.  I know I am placing the task of developing the action plan needed to get there in very capable hands." The transition team was put in motion in January 2010. Watch Renee in action before City Council.
The transition team created eight committees to review operations in the following areas:
Metro/transportation;
Housing and Community Development funding, contracts and personnel;
Intergovernmental Relations, including opportunities for collaboration and cost efficiencies;
Neighborhood protection involving everything from weeded lots to graffiti abatement;
Permitting efficiency and procedures;
Public works and infrastructure including streets, flooding and drainage;
Density and development ordinances to help residential neighborhoods;
Minority and women business enterprise contracting.